Are you ready for a change?
• Have you realized you don't recognize yourself anymore?
• Have you tried to change yourself or your feelings because of a toxic partner and now you've lost all sense of self?
• Have you been cheated on and betrayed, yet somehow they make it your fault?
• Or perhaps you have already broken up, yet you are constantly sucked back in by guilt and manipulation?
• Have you discovered you're in a relationship with a narcissist, and you need some help moving forward and knowing what to do?
• Do you want to be a better role model for your children and be more present with them?
• Do you just want life to be better, but don't know how to make it happen?!?
It may not feel like it right now, but a better life IS possible.
…and to make the process easier for you, I've created The Better Life Bundle, which includes the supplemental action-injection you need to begin your healing journey. This bundle will help you get on track for a better life as you navigate The Essential No Contact Bootcamp!
Here's what's included: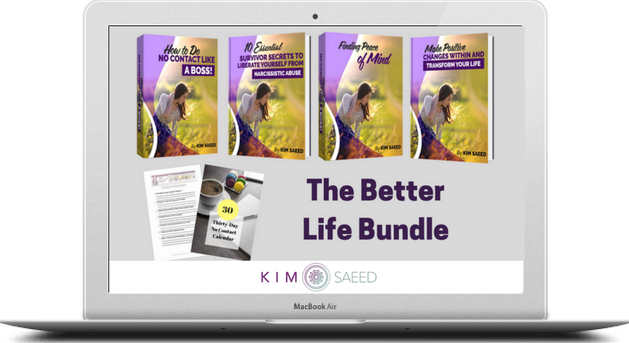 PDF copies of Kim's best-selling ebooks, "How to Do No Contact Like a Boss!" and "10 Essential Survivor Secrets to Liberate Yourself from Narcissistic Abuse" PLUS, 2 bonus self-development eBooks, "Make Positive Changes Within and Transform Your Life" and "Finding Peace of Mind"!

And there's more! Get Kim's 30-day No Contact Calendar, the 'Better Life Questionnaire', and printable affirmation cards to print out and place around your home or office!


What people are saying ~

This powerful little bundle came at just the right time! I have been reading about Narcissism for a while, and this is just what I needed to get moving with No Contact. Glad to say I've been NC for two months now! – Sandy P., Jacksonville, FL


Between this bundle and Kim's No Contact Bootcamp, I haven't made contact with my Ex in months! – Shelby A., Lincoln, NE